Pierini Glass Art Center in Biot on the French Riviera
The whole team of CSP France thanks Antoine and Gaelle PIERINI for having entrusted us to create the website of their Glass Art Center situated in Biot. In this gallery, we can find an attractive showroom, the glass blowers' workshop and the artist-in-residence. A must-see experience on the French Riviera.
Despite the complicated task, because of many constraints, the whole team was very attentive with a lot of patience in the creation of the website of our small family business. The experience was so enriching and serene that we will surely renew our collaboration.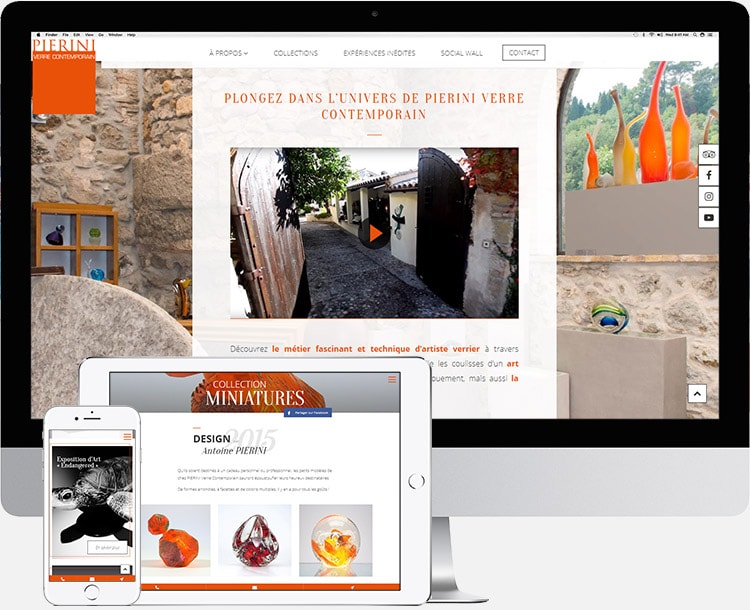 Realized services
CSP France has realized the Pierini Gallery website following the specifics needs of the art profession and the SEO needed to highlight the services on the web.
Realized services by CSP France for Pierini Verre Contemporain:
Creation of the website on 2018
Set up SEO solutions
Redesign of the website in 2021 (Logo, menu, colours, typography, « Series » and « Artists » pages)
Pierini Glass Art Center in Biot, Côte d'Azur
The Pierini International Glass Art Center is ideally located on the French Riviera, in Biot, a town renowned for its glass tradition, our showroom and studio will allow you to discover glass in its most prodigious finery.
Displayed in a XVth century olive oil mill, our glass artworks, blown and made in our studios by in situ artists, are highlighted in this historical location.
Along with our artists, discover the work of the glass-maker and enjoy a fascinating alchemical experiment. When fire and the materials come into contact, they will unveil their secrets to you and you can assist in the blowing by tube of your first work!
Websites - International Glass Art Center Pierini