Our trusted partner since 2009
CSP-France would like to thank Thierry Naidu, founder of Phoenix Hotel Management, for placing his trust in us and allowing us to provide online marketing services.
He has also engaged us to create websites for the entire collection of properties in France and to manage the computer systems of Hotel La Chevre d'Or, Hotel La Vague de Saint Paul, Hotel Château Le Cagnard and Hotel Misincu.
CSP France is our partner of choice since several years for all our projects in IT and web marketing.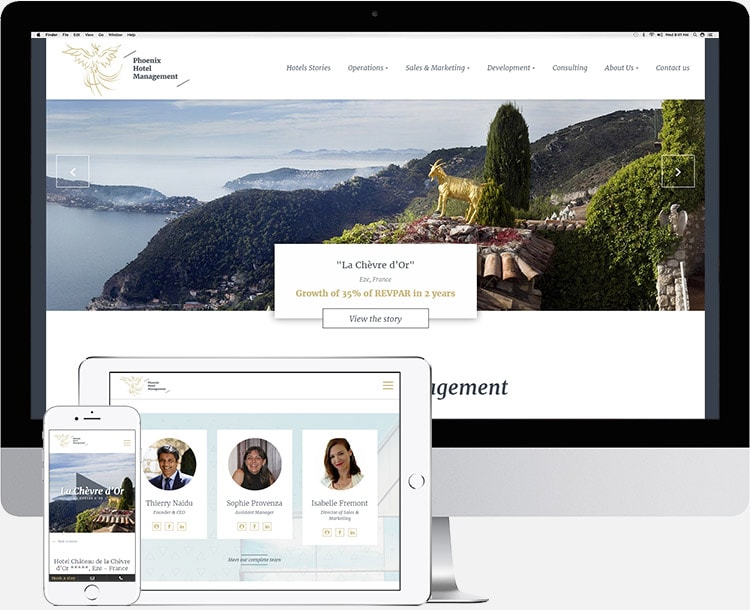 Realized services
CSP-France manages the entire web presence of Phoenix Hotel Collection. Indeed, from the creation of the site to its referencing, through the creation of content and email campaigns, CSP-France allows this hotel specialist to no longer worry about its presence on the Internet !
Realizations CSP-France for Phoenix Hotel Collection :
Website creation under wordpress and refresh in 2017 and 2020
International SEO
Brand protection Protection de marque
Email campaigns
Content management and creation
Phoenix Hotels Management Company
Phoenix Hotel Management is a company that specialises in managing luxury properties, with genuine expertise in managing independent hotels. When a luxury hotel joins the Phoenix Hotel Collection, it can benefit from greater efficiencies and economies of scale that rival those of properties in the largest international chains.
Phoenix Hotel Management provides all hotels in the group with the same operational tools as those used by its most prestigious properties. If you'd like to benefit from support in relation to sales, marketing, public relations or finance for your property, Phoenix Hotel makes it possible for you to manage your hotel in the same way as a luxury international chain property.
Visit the website's Phoenix Hotel Management created et realized by CSP-France : http://www.phoenixhotelcollection.com/
Websites - Phoenix Hotels Management Company