The most beautiful view in Cannes bay
The Palais Stéphanie Beach management, beach and restaurant of JW Marriott hotel in Cannes, trusted us to create their Internet website.
CSP France is also in charge of audit and set up of SEO solutions.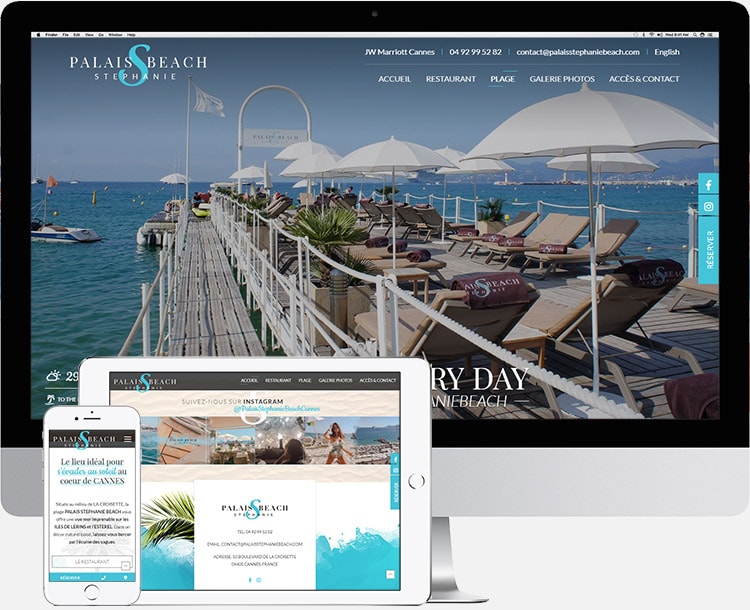 Realized services
CSP France has realized the website of the restaurant and the Beach of Palais Stéphanie Beach.
CSP France team works closely with the sales team of the beach to optimize content and Set up an appropriate SEO to increase sales.
Realized services by CSP France for The Palais Stéphanie Beach :
Creation of the website on 2018
SEO solution
Palais Stéphanie Beach in Cannes
The Palais Stéphanie Beach is the perfect place of La Croisette in Cannes to relax and be rocked by the waves on the French Riviera.
Facing the Lerins Islands and the Mediterranean Sea, pamper yourself on the biggest sandy private beach of Cannes on which a DJ and a lounge atmosphere is waiting for you.
Our beach front restaurant welcomes you every day. Treat yourself with the cuisine of our Chefs combining Mediterranean and Japanese tastes while enjoying the most beautiful view on the bay of Cannes. For sushi lovers, our sushiman Phai will make you discover its specialties.
Websites - Palais Stéphanie Beach