La Ferme du Cayla - A Family Experience
La Ferme du Cayla represents a haven of peace in the heart of the Midi Pyrenees which offers an unforgettable family stay, French way, in a rural environment every season.
Special thanks to James and Olivia for trusted us into the creation of their websites in French and English version. Together we put forward the familial's stays aspect that they offer and created a personalized website.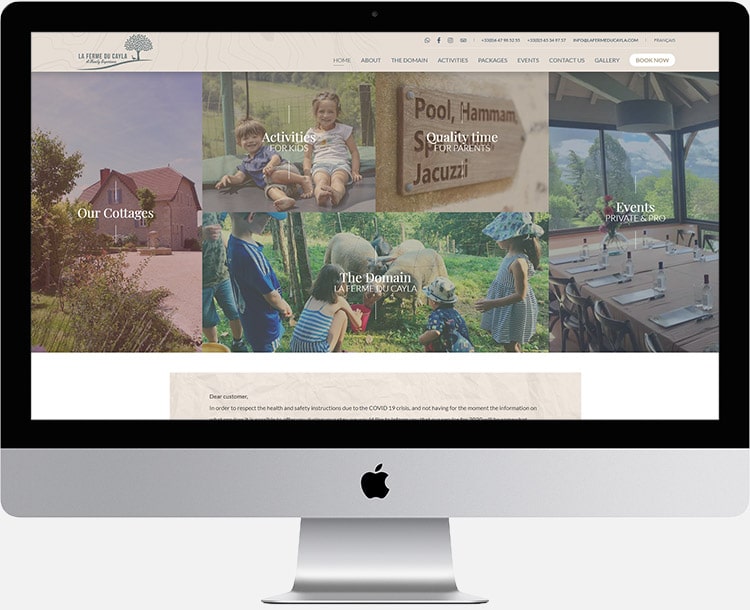 Realized services
Realized services by CSP-France:
Website creation in English and in French in September 2019
La Ferme du Cayla : Family spirit in Midi-Pyrénées
La Ferme du Cayla is open since the beginning of 2019, it's located in the Valée du Lot and it offer an ideal place for a perfect stay with the family. Every effort has been made for the families; they can wholly enjoy their holydays.
The farm propose typical French houses renovated in a contemporary decoration along with gardens.
Also, there are several services offers like a nursey and a kids club with plenty of activities, an educational farm, a private lake, yoga sessions, massages, a bar and a restaurant.
Within La Ferme du Cayla, families will be able to discover French gastronomy, typical villages of the region and enjoy numerous activities around sumptuous landscape.
Websites - La Ferme du Cayla