H.I Cannes, the perfect blend of designer style and comfort
The Holiday Inn hotel entrusted CSP-France with the task of creating a website in four languages and optimising its search engine ranking internationally.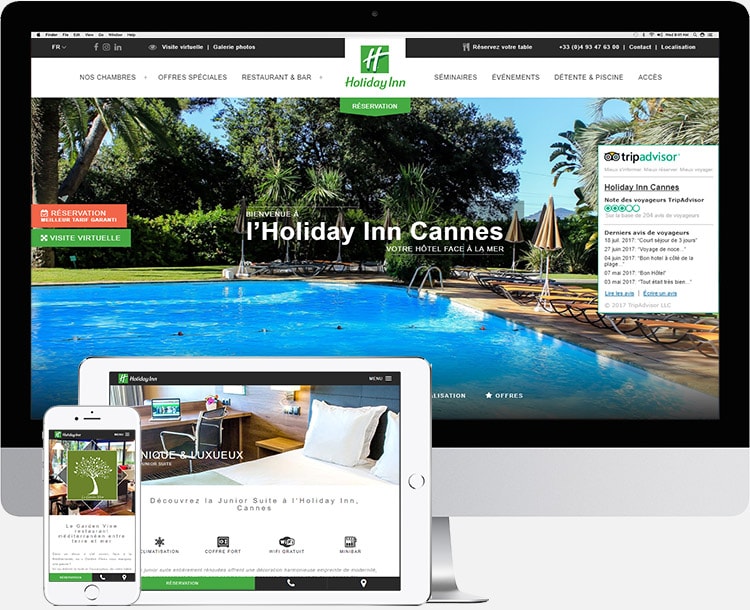 Realized services
For the hotel Holiday Inn de Cannes, CSP-France was entrusted with the redesign of the website, available in four languages.
In addition to the design and dynamic nature of the site, a powerful online booking module has been put in place, in order to achieve more live conversions and protect its brand of price comparators.
Realization CSP-France for the hotel Holiday Inn de Cannes :
Website creation for the hôtel in 2016
Natural international SEO since 2016
Brand protection on Google AdWords since 2016
The 4-star Holiday Inn Cannes, overlooking the beach at Plage du Midi !
Located on the western coast of the town of Cannes, the Holiday Inn Cannes benefits from a location directly opposite the Plage du Midi beach.
Just a few minutes away from the famous Palais des Festivals and the legendary Croisette, the hotel enjoys a privileged location that attracts both leisure and business travellers.
The hotel offers a number of different room types as well as junior suites, all of which provide high-quality services against a lush, green and peaceful backdrop, with
comfortable bed linens, a bathroom, an in-room phone, an LCD TV, Wi-Fi internet, a safe, and air conditioning.
Some rooms also feature a private terrace.
The hotel also benefits from a boutique lounge that combines calm, comfort, and elegance, created in a pop-art style with space for guests to relax. Meanwhile, the "Garden View" offers traditional Mediterranean dishes, fresh from the farm and the sea, in an open-air setting.
Websites - Holiday Inn Cannes 4*