A Mediterranean family history
CSP France team thanks Alain and Virginie Llorca for their trust they show us in the realization of the Internet websites of their hotel and restaurant group.
Everything has been settled to make good quality website and SEO  for each establishment in order to improve their visibility and accompany them in the actions to increase direct sales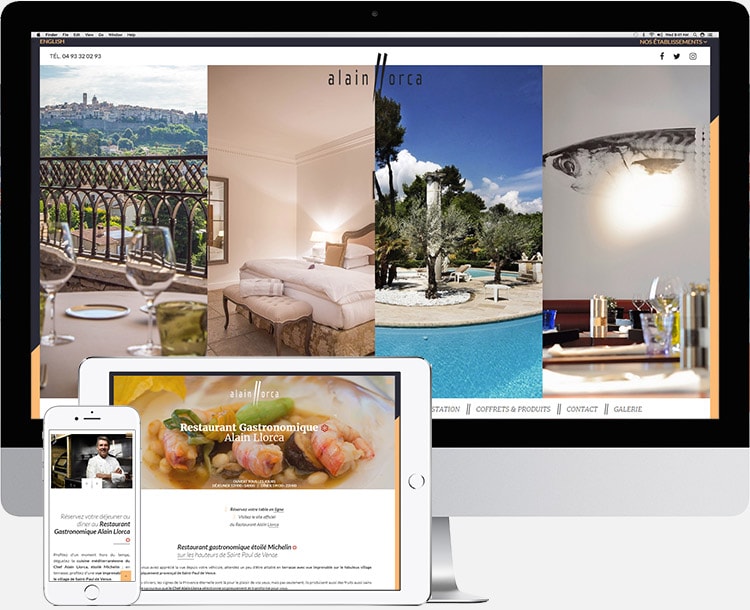 Realized services
CSP France has realized the websites of the establishments of Alain Llorca brand : Restaurant Alain Llorca, Hotel Alain LLORCA * * * *, Hotel Les Messugues and restaurant Café Llorca.
All the team of CSP France works closely with Llorca sales team to optimize content and set up an appropriate SEO to increase sales.
Realized services by CSP France for the Llorca brand :
Creation of the website of the Llorca brand on 2018
Creation of the website of the restaurant Alain Llorca
Creation of the website of the hotel Alain Llorca ****
Creation of the website of the hotel Les Messugues ***
SEO solution for each website.
Llorca brand – A Mediterranean family history
Chef Llorca is considered today to be one of the pillars of contemporary Mediterranean cuisine.
He is a man fully flourishing in his art, managing his flagship vessel, the Alain Llorca Hotel **** and Restaurant, opened in 2009 in Colle-sur-Loup, starred since 2012 – this land of flavors which he shares with his younger brother, Jean-Michel.
The Alain Llorca brand also includes the Llorca Café located in Vallauris. A jewel already rewarded with a Michelin gourmet bib.
Alain Llorca added a touch to his empire with the Messugues Hotel*** in January 2016, surrounded by Maeght Fondation grapevines, right in the middle of Saint-Paul-de-Vence.
Websites - Alain Llorca, Hôtels & Restaurants